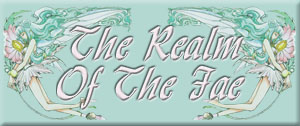 These pages are an attempt to deliver credit to those it is properly due. Unfortunately, for a number of these pictures I am unsure who to credit. If you know the artist responsible, please email Aelora and let and let me know!
The following pictures are by Brian Froud:
| | |
| --- | --- |
| The following picture is by Alan Lee: | |
Next page of credits.
Unimplemented ISML Tag: TYPE=
<! -- Image map created by MapMaker32 -->